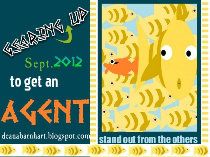 This is my first time doing anything like this - but it sounds so fun! Gearing up to get an agent, or GUTGAA, is a month long contest with all sorts of fun events and prizes that Deana Barnhart hosts on her blog. Week 1 starts tomorrow, Sept. 3. Here's the schedule:
WEEK 1 (Monday, Sept 3rd - Friday, Sept 7th)
OFFICIAL START OF GUTGAA!!
Monday:
GUTGAA Meet and Greet
- We're starting off with a little get to know you action. On your blog, post a mini bio about yourself along with answers to the questions I posted on my blog (see above if your confused). Don't like those questions all that much? That's fine. Make up your own. Either way, we just want to get to know you!
Wednesday:
BETA/Critique Group Connect
- Anyone interested in making some serious writer connections can come to my blog and post in the comments section what they're looking for and I will try my best to make a writer connection for you.
Friday:
Call for Pitch Polish Entries
- Are you looking for some pitch help? The Pitch Polish may be what you're looking for.
I will start taking pitches Friday, at 11AM and you will have until Saturday, Sept 8th at 11:59 PM EDT to get your pitch sent to deanabarnhart(at)gmail(dot)com. I will take the first 100 entries I get (if I get that many). To enter the pitch polish you will need to email your query and first 150 words to deanabarnhart(at)gmail(dot)com. Go

HERE

for details about what I mean by query and first 150 words as well as the format for entries.
Giveaway Winner Announced
- Every Friday I will be randomly drawing a participants name and giving them a prize just for being cool:)
Doesn't that sound awesome? Have you signed up yet? http://deanabarnhart.blogspot.com/2012/08/gutgaa-schedule.html?spref=tw